A real laboratory must know how to deal with the reality from which it draws its main lifeblood to be a research and training bench not only for the youngest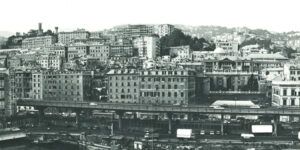 ILAUD worked at the pilot project for the rehabilitation of Pré District in the historic centre of the city.
Genova project represents a rather important turning point in the now long life of ILAUD. lt 's the first time that the
Laboratory appears In public, and it's the first time that the ideas end experiences of seven years of Residential Courses
Seminars, Permanent Activities have been applied to an actual project, which could have further developements end be
implemented – even if only in part on the future.
The project is illustrated in 94 large and complex drawings.
You can see what ILAUD aims to be: not a conventional summer schoot but a real laboratory, where new architectural ideas are explored that can be test ed through their application in concrete action